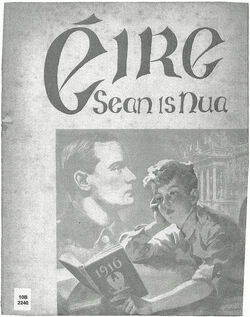 Éire, Sean is Nua ("Ireland, old and new") is a 48 page Irish language comic produced by the Irish Christian Brothers and published by M. H. Mac Guill agus a Mhac in Dublin in about 1953, telling a partisan history of Ireland from the neolithic to the War of Independence (glossing over the Civil War) and foretelling a pious, prosperous and Irish-speaking future in a reunified 32-county Irish state, led by the Church.
It's told in "Rupert the Bear" style, in a sequence of drawings accompanied by typset narration, without dialogue in speech balloons. The artist appears to be George Altendorf, and the cover is recycled from a 1941 issue of Our Boys, with a signature that looks like "O'Leary".
In 1962 Fine Gael TD Patrick Byrne characterised it in the Dáil as a "horror comic", "full of blood-curdling accounts of battles, executions and persecutions", including "eight pictures of people being executed", although the depictions of violence in the book are far from graphic. He also objected to its political bias and its potential for "reviving, fomenting and perpetuating ancient hatreds", and asked for, and received, reassurance that it had not received any government funding.
Community content is available under
CC-BY-SA
unless otherwise noted.