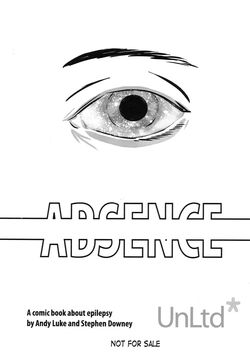 Absence is an autobiographical comic written by Andrew Luke on the subject of living with epilepsy. It started life in February 2010 as a 24 hour comic illustrated by Luke. A reworked version with a tightened script, illustrated by Stephen Downey, was published for free in April 2011 with the aid of a grant from the UnLtd Millenium Awards Fund, in print, online and as an iPhone/iPad app developed by Morten Thomson of Norwegian-based Oxicomics.
Of the original, blogger Danny Pongo says:
"Fantastic! A perfectly measured mix of poignancy, humour, and what i took most from it was its informative, educational aspects. should be essential reading for anyone coping with epilepsy, along with their loved ones, and makes for a far better more aunthentic experience than those dry boke NHS screeds you find."
To date, 10,000 copies were distributed over Northern Ireland, with an additional 5,000+ views online. In addition to the UnLtd Award, Absence has been nominated for a number of awards, and the subject of a documentary in post-production by film-maker Joe McStravick.
In February 2012, Oxicomics used Absence to demonstrate their new HTML5 Comics Reader; an in-browser version which emulates their app.
External links
Edit
Community content is available under
CC-BY-SA
unless otherwise noted.