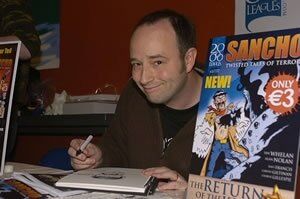 Not to be confused with Alan Nolan, creator of Dubcity Comics Presents
Alan Nolan was born in Dublin, studied at the National College of Art and Design and became a graphic designer.
Between 2004 and 2008 he published, through 20,000 Leagues, five issues of Sancho, a series about a Mexican ex-priest and paranormal investigator, co-created with Ian Whelan. In 2009 he created The Big Break Detectives, a strip about three schoolchildren who investigate mysteries during their lunch break, for the Irish language comic Rí-Rá. In May 2010 he began an association with The Irish Times, drawing a single-page comic strip for its Aviva Stadium Supplement. In June he created Ag Imirt Pelé, a two-page strip about the Brazilian football legend for the paper's World Cup Magazine, and beginning in November 2010, he has been drawing Prof Butterknut and Kronk, a monthly strip about science for its "Bang" supplement.
In January 2011 he was named at number 73 in the Sunday Tribune's Hot 100, having signed a deal with The O'Brien Press for six graphic novels for children. The first book, Death by Chocolate, a "Murder Can Be Fatal Mystery", was published in August 2011, followed by a second in the same series, Six Million Ways to Die, and The Big Break Detectives Casebook, later the same year. A third "Murder Can Be Fatal" book, Destination Homicide, was released in May 2012, and a fourth, And the Blood Flowed Green, in autumn 2012.
He has been working for some time on two forthcoming projects with co-writer and artist Davy Francis, The 4 Fathers, about a group of demon-hunting priests, and Thunderbags, about a group of retired superheroes. He has also contributed to Puny Earthling (2006), Duke Étrange's World of Weird (2007) the Irish Comic Challenge (2007-8), Sorry I can't take your call right now but I'm off saving the world (2008) and Zarjaz (2009), and drawn covers for Donnie Got Laid (2007) and Tales from the Emerald Isle (2010). He won the 2011 Irish Comic News award for Best Self-Published Irish Artist. He lives in Bray, County Wicklow, with his wife and three sons.
Community content is available under
CC-BY-SA
unless otherwise noted.