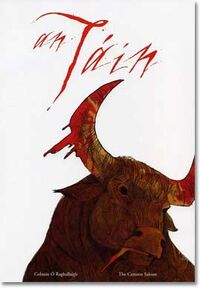 An Táin ("the herd" or "cattle-raid") is an Irish-language comic written by Colmán Ó Raghallaigh, drawn by Barry Reynolds, coloured by Adrien Merigeau, lettered by Roxanne Burchartz, and published by Cló Mhaigh Eo in 2006. It adapts the ancient Irish epic Táin Bó Cúailnge ("the cattle-raid of Cooley"), in which queen Méabh of Connacht invades Ulster to steal the bull Donn Cuailgne, opposed by the teenage Ulster hero Cú Chulainn. It won the Oireachtas na Gaeilge Irish Language Book of the Year award for Young People (Leabhar Na Bliana do Dhaoine Óga) for 2006.
Cló Mhaigh Eo published a follow-up/prequel, Deirdre agus Mic Uisnigh ("Deirdre and the sons of Uisnech"), by Ó Raghallaigh, Reynolds and colourist Audrey O'Brien, in 2008.
A different adaptation of the same story can be found in Patrick Brown's webcomic The Cattle Raid of Cooley. Michael Hall and Gary Hamilton's Cúchulainn: Champion of Ulster adapts the legends of the hero's youth.
External links
Edit
Community content is available under
CC-BY-SA
unless otherwise noted.