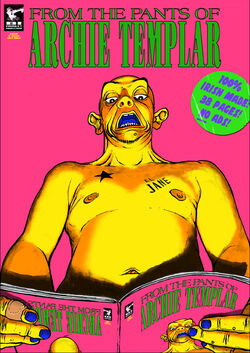 Archie Templar is an independent comic artist and illustrator based in Dublin. In 2007 he self-published Ireland's first full-colour, full-size, small press comic, From the Pants of Archie Templar. In the same year Bi Product Productions was launched as a platform for other artists and writers to publish their work from. Released in 2009, From the Desk of Archie Templar: In Articulo Mortis is a collection of illustrated short stories by Irish writers dealing with religion, insanity and murder.
He is working on a number of forthcoming comics, including From the Heart of Archie Templar: The Comic Book of Love, a series of strips contemplating that most intangible of things; Guns, Girls and the Facts of Life, a trailer-park crime story based on a screenplay by Hugh Lawton; Recent contributions to anthologies include include A Life, included on the charity graphic novel Spirit of Hope, and Why Don't You Call?, included in the Irish anthology ROMANTIC MAYHEM!.
Also published under Bi Product Productions: Two 24 hour comics in hi quality A4 format, The Pikes Peak Maneuver and The Novak Seven
Bibliography
Edit
External links
Edit
Online reference
Edit
Community content is available under
CC-BY-SA
unless otherwise noted.