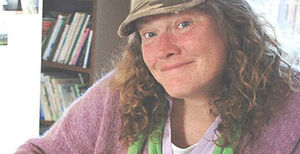 Barbara Nolan was a cartoonist and illustrator whose work appeared in national newpapers, magazines, periodicals and educational publications in Ireland. Her comic strip Moya ran in a national newspaper from 1986, and another strip, "Me and Me Gran", appeared in children's magazine The Den from 1993. In 2004 she wrote and illustrated a children's book, Who is my Angel?. She lived in Allihies, West Cork, and formerly in Blackrock, County Dublin. She died at home in Allihies on 13 August 2012, survived by her two sons, Oscar and Ruarai.
External links
Edit
Community content is available under
CC-BY-SA
unless otherwise noted.