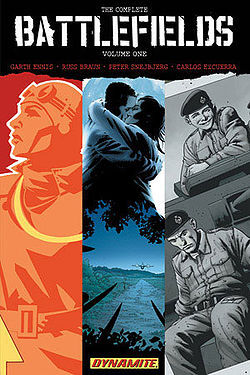 Battlefields is a series of miniseries of war stories by Garth Ennis and various artists, published by Dynamite Entertainment in the USA.
The first series, published in 2008-2009) comprised three 3-part stories:
"The Night Witches" (drawn by Russell Braun) - set on the Eastern Front, following a group of female Soviet bomber pilots
"Dear Billy" (drawn by Peter Snejbjerg) - a British nurse who survived rape and attempted murder by Japanese soldiers in Singapore strikes up a relationship with a wounded pilot
"Tankies" (drawn by Carlos Ezquerra) - follows an inexperienced British tank crew in the Battle of Normandy
A graphic novel collecting the first story was published in December 2009.
A second series, in the same format, began in December 2009. Stories are:
"Happy Valley", drawn by P. J. Holden, about an Australian RAF bomber crew flying missions over Germany's Ruhr Valley
"The Firefly and his Majesty", drawn by Carlos Ezquerra - a sequel to "Tankies", in which the crew pursue a German King Tiger tank in the last days of the war
"Motherland", drawn by Russell Braun, is a sequel to "The Night Witches", in which Lieutenant Anna Kharkova is transferred to fighters and thrown in at the deep end, with more responsibility than she expected.
External links
[
]
Press
[
]
Online reference
[
]