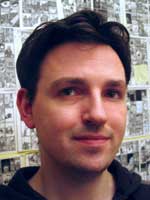 Bob Byrne (born Dublin, 1979) is a comics writer, artist and, as Clamnuts Comix, an independent publisher from Dublin, currenly living in Murcia, Spain. He specialises in wordless comics, feeling that "silent comics are the purest form and that they make the most of the medium".
Bob's earliest comic strips were published in the Irish small press anthology Toenail Clippings (1998-2002). He self-published three issues of Mbleh!, a black and white anthology of his short strips and the first Irish comic to be distributed by Diamond, in 2002-2003. He followed that with four issues of The Shiznit, a free pocket-sized full colour anthology by Bob and other artists, funded by adertising and distributed to shops in Dublin and elsewhere in Ireland.
His first Mister Amperduke strip, a wordless story about an old man who builds and maintains a lego-like world inhabited by tiny living people in his basement, appeared in Mbleh! in 2003, and was reprinted in the Judge Dredd Megazine's Small Press section in 2006. In 2008 he published the first Mister Amperduke graphic novel, again wordless, in which Mister Amperduke's resentful grandson introduces a destructive garden creature into his world. He is currently working on a sequel, as well as his webcomic Spazzmoid (2008-).
Since 2008 he has been writing and drawing Bob Byrne's Twisted Tales, an irregular series of wordless short stories, for 2000AD. He has also created a children's book, Robots Don't Cry, published by The O'Brien Press in 2006, provided the art for a special colour issue of writer Rob Curley's supernatural detective comic Freakshow in 2007, and contributed to the Irish-language anthology Rí-Rá.
He was nominated for an Eagle Award for Favourite Comics Writer/Artist in 2007. He is a contributor to the Irish Comic Challenge, and a member of the Eclectic Micks sketchblog.
External links
Edit
Comics online
Edit
Online reference
Edit
Wikia: UK Comics
Community content is available under
CC-BY-SA
unless otherwise noted.