Jurassic World: Dominion Dominates Fandom Wikis - The Loop
Play Sound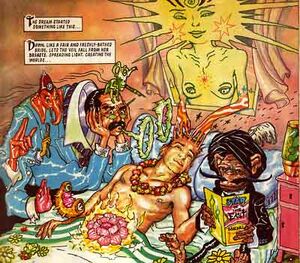 Brendan McCarthy is an internationally renowned artist and designer based in west Clare. Born in London to Irish parents, he studied film and fine art at Chelsea Art School, where he created Sometime Stories (1977) with fellow student Brett Ewins. His first paid work was the one-page strip "Electric Hoax" (1977) in Sounds magazine, written by another former Chelsea student, Peter Milligan. Before long he was working for 2000AD, and doing design work for an abortive Dan Dare TV series.
He collaborated with Milligan on the post-apocalyptic surfing comic Freakwave (1983-4), and with Milligan and Ewins on the anthology Strange Days (1984-5), which featured his alternative "media brat superhero" Paradax, later published in his own two part series by Eclipse Comics in America in 1987. In 2000AD he created the Judda for the 1987 Judge Dredd serial "Oz", and designed the characters for Grant Morrison's superhero series "Zenith". He also designed characters for Morrison and Mark Millar's miniseries Skrull Kill Krew for Marvel, and painted covers for Milligan's Shade the Changing Man (1992-) at DC.
Back in the UK, He and Milligan created "Rogan Gosh" (1990) for Revolver, and the thalidomide skinhead series "Skin" for Crisis, which was controversially rejected by the magazine and later published as a graphic novel by Tundra Publishing in 1992.
He designed and storyboarded the Arabian cel-animated TV series New Babylon, and The Storyteller for Jim Henson's company. He did design work for Coneheads, Highlander, Teenage Mutant Ninja Turtles, Lost in Space and The Borrowers. He designed CGI imagery for the animated TV series ReBoot, and created characters for War Planets. In 2001 he was asked to co-write and design Mad Max 4: Fury Road with director George Miller. Also with Miller, McCarthy created, co-wrote and designed a surreal CGI animated feature called Fur Brigade, which he finished working on in 2003.
In 2004 he hired Steven Cook to help him design Swimini Purpose, an illustrated visual autobiography of his original art and design work. This was released in 2005 in the UK, as a limited artist's edition. In 2006 he was featured in an issue of DC Comics' artist showcase series Solo, including his takes on the Flash, Batman and Johnny Sorrow, and in 2010 he wrote and illustrated a two-part Spider-Man/Doctor Strange miniseries, Fever. In 2012 he and writer Al Ewing created the surreal fantasy "The Zaucer of Zilk" for 2000AD.
External links
[
]
Online reference
[
]