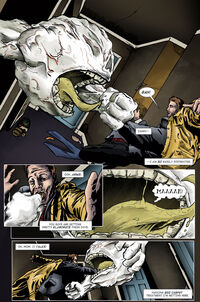 Cancertown is a graphic novel written by Cy Dethan, drawn by Stephen Downey, and coloured by Melanie Cook, with a cover by Paul Cartwright, published by Insomnia Publications in 2009. Since the closure of Insomnia in 2010, the book will be published by Markosia.
It is the story of a former mental patient with an inoperable brain tumour who conducts search-and-rescue missions into a monstrous, alternate version of London. The character's name is Morley, and he suffers from a rare mental disorder that causes him to believe a number of weird things about himself and his relationship to the outside world. The major upshot of this is that his delusions manifest themselves in a twisted alternate world he calls Cancertown. The real fun for Morley begins when dispossessed people - those who are lost or who have a diminished sense of their own identity - start to fall into Cancertown, and Morley decides that his purpose in life is to find those people and return them to the real world before they become permanent residents.
External links
Edit
Online reference
Edit
Community content is available under
CC-BY-SA
unless otherwise noted.