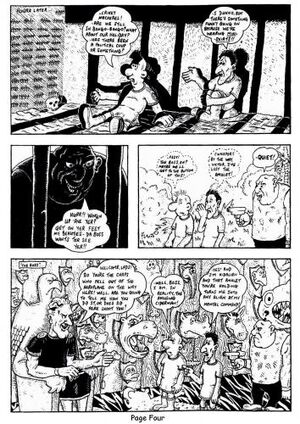 Ciderman was created by Davy Francis for Ximoc #8, the last issue of that comic, in 1985. The story featured the origin of Ciderman, who was in reality Victor Snoddy, a mild-mannered pencil pusher for the Department of Meaningless Tasks and Boring Jobs. A particle of cosmic energy fell from space into a bottle of cider Victor was drinking from, transforming him into Ciderman, a superhero with cider-strength, cider-vision, cider-breath and flight.
The adventures continued in Funny Ha-Ha 1-3, with covers by Ed McHenry and John McCrea. Francis also penned a 64-page spectacular where Ciderman met The Useless League Interdimensional, a band of hapless heroes, but this was never published. The character later appeared in a comic drawn by Sean Doran and written by Davy Francis in the 90's, named The Amusing Ciderman.
Three Ciderman stories, plus a screensaver and wallpaper, are now available to download from the Ciderman website.
Community content is available under
CC-BY-SA
unless otherwise noted.