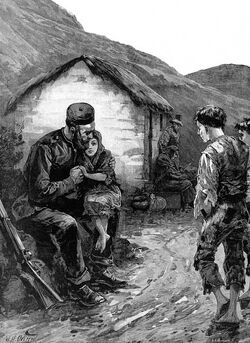 Claude Byrne (b: 1863 d. January 1931) was a journalist and news illustrator based in Dublin. Born in London, brother of the dance teacher Leggett Byrne, he worked for The Illustrated London News in the late 19th century, covering events in Ireland including Land League agitation, the investigations and trials following the Phoenix Park assassinations of 1882, the Belfast riots and the Boycotting campaign, as well as the Tithe troubles in Wales. He also worked as Vienna correspondent for The Graphic, and exhibited at the Royal Hibernian Academy in 1884. He was subject to a premature obituary when a man fell from a railway carriage in which Byrne had left a sketch book, and was mis-identified as the artist.
Illustrations
Edit
References
Edit
Simon Houfe, The Dictionary of 19th Century British Book Illustrators, Antique Collectors' Club, 1996, p. 84
Biography at Scoop! (subscription required)
"Dublin News", New Zealand Tablet, 28 September 1888
Community content is available under
CC-BY-SA
unless otherwise noted.