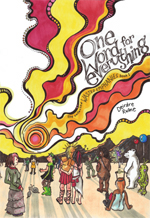 Deirdre Ruane is a cartoonist and painter based in Oxford. She is the creator of Wasted Epiphanies, a series of four minicomics published from 2006-2008, and from May 2009 a webcomic. It's a series of short strips, from autobiographical vignettes to observation to familiar scenes seen from unusual points of view to flights of fancy, with occasional recurring characters like "Tempin' Bear", a polar bear whose ice-floe has melted and who has to make a living in unsuitable office jobs, and "The Many Deaths of Buzz the Caveman", a prehistoric man whose tendency to be nice keeps removing him from the gene-pool. A 48-page collected edition, One Word for Everything, was published in July 2009. A second collection, Waiting for the Mothership, followed in December 2010.
External links
Edit
Community content is available under
CC-BY-SA
unless otherwise noted.