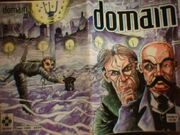 Domain was an anthology magazine published out of Cookstown over 1994-1995, edited by Jim Johnston, Bob Corcoran (art editor) and Jonathan Turner (consulting editor). It ran for threee issues, and was to feature a mixture of artists of fortune from the Ulster comics scene.
Domain grew out of (though bore little resemblance to) Perchance, the roleplaying gamer zine published in early 1992, and distributed at several Belfast specialist stores. It was an A5, 32 page photocopied piece quite indicative of the basics of zine publishing. Edited by Johnston, it included short science-fiction stories and articles on role-playing strategies. Though Perchance didn't include any comics work, it did feature a front cover illustration by John McCrea and P. J. Holden, and a back cover by Holden. The first short story was by Hilary Robinson, with illustrations by Gary Hamilton. Other contributors to Perchance included Ed McVeigh and Colin Gordon. Illustrators included Tim Tozer, Patrick J. Heron, Gary Thompson, Allen Fox and David Boatright.
Where Perchance contained mainly text pieces, Domain was fully a comics orientated publication. Each issue featured a wrap-around colour cover (check needed) Sized A4 it came in at 40 pages per £2 issue. Each issue carried an ISSN number.
"Witchunter", by P. J. Holden and Tom Kline featured in the first issue only, and was later to re-appear in DNA Swamp. "Lovatt & Crouch" ran in the second issue from a concept and script by Johnston, with art by Gary Hamilton. "The Steed of Krall" and "Roachworld" were ongoing works also scripted by Johnston, with art by Paul J. Whittaker. Whittaker also created and developed occasional series, "The Pusher". "The October Man" had a concept and script by Turner, with art by Corcoran.
Community content is available under
CC-BY-SA
unless otherwise noted.