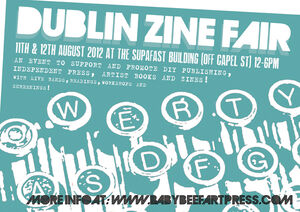 The second annual Dublin Zine Fair will be a two-day event held on the weekend of 11-12 August 2012, at the Supafast Building, Great Strand Street (just off Capel Street), Dublin, and will host some of the best in European DIY publishing and celebrate the handmade! Much love, time, blood, sweat, tears, staples, prit-stick and photocopying goes into the production of these special limited edition publications. This is your chance not only to get hold of these treasures, but to meet some great artists, illustrators, writers, nerds and weirdos and to support what they do! The events will be accompanied by live music from some amazing Dublin bands, zine and poetry readings and screenings. Admission free.
The first fair was held on 27 August 2011 at Ranelagh Arts Centre, and was founded by Sarah Bracken, artist and zinester behind Baby BEEF independent art press.
"Zines are such a huge part of the sub-culture in other countries. I've been to zine fairs and zine shops in New York, Berlin, London and San Francisco the scenes there are thriving. I founded the Dublin Fair to encourage more people to make zines and get involved. Having a fair to work towards always makes me produce more work, so hopefully every year it will inspire more people and the scene will flourish."
External links
[
]