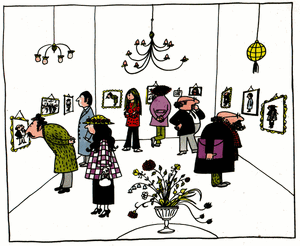 Elizabeth Shaw (b. Belfast, 4 May 1920, d. Berlin, 27 June 1992) was an illustrator, cartoonist and caricaturist.
Born in Belfast, she spent her teenage years in Bedford, and was educated at the Chelsea School of Art under Henry Moore and Graham Sutherland among others, before becoming a graphic artist in London, contributing to the left-wing magazine Our Time and the pocket magazine Lilliput. During the second world war, as she did her national service as a mechanic in London's telephone centres, her reputation as an illustrator rivaled that of Ronald Searle.
In 1944 she married the Swiss-born German sculptor and painter Rene Graetz. Both committed communists, they settled in East Berlin in 1946, where Shaw made her name as a caricaturist, drawing for Neues Deutschland, Ulenspiegel, Frischer Wind, Vorwärts and Aufbau Verlag. For twenty years she and writer Bertha Waterstradt published Das Magazin, showcasing the work of women writers and artists, to which she contributed the comic strip "Sonntagmorgen". She illustrated Berthold Brecht's poems for children and books by Mark Twain, Astrid Lindgren and other. She also wrote and illustrated more than 23 or her own children's books which were published in 13 languages, including Das kleine schwarze Schaf (The Little Black Sheep).
Initially a follower of Stalin, she became disillusioned with him, and the East German authorities, by the mid-50s. After Britain opened an embassy in East Berlin in the 1970s and international relations normalised, she published books on places she had visited, particularly in Ireland, and exhibited her work, with Arts Council backing, in Coventry and Belfast. She published an autobiography, Irish Berlin, in German in 1990.
Community content is available under
CC-BY-SA
unless otherwise noted.