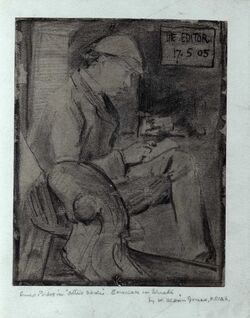 Ernest Forbes (1879–1962), born Ernest Forbes Holgate, was a political cartoonist who, as "Shemus", drew for the Freeman's Journal in the 1920s.
Born in Yorkshire, he was one of the artists associated with "Ye Attick Art Club" in Barwick-in-Elmet. He had a studio in Barwick from 1896 to 1914, and drew caricatures for the Yorkshire Evening News under the name "The Hermit". He enjoyed brief fame as a caricaturist for the Illustrated London News, working from a studio in Chelsea. Returning to Yorkshire, he produced a series of pictorial articles entitled "The Mellow Shire" for the Yorkshire Post.
In 1920 he moved to Ireland to join the staff of the Freeman's Journal, and between 1920 and 1924 he drew 300 cartoons for the paper under the pseudonym "Shemus". Up until the truce of July 1921 and Treaty of the following year, his cartoons were hard-hitting condemnations of the increasing brutality of British rule in Ireland. After the Treaty, they mainly attacked the government in Northern Ireland and the anti-Treaty elements in the Irish Free State. His work generally reflected a British liberal perspective. Over three-quarters of the original Shemus cartoons are now in the National Library of Ireland's archive, along with printed copies of many others. Forbes also drew cartoons on non-political subjects such as horse-racing, signed "Cormac" (not to be confused with the Belfast political cartoonist who uses the same pseudonym).
He returned to Yorkshire, where he went on to become a well-known portrait and landscape painter. He lived in Askwith in
Felix M. Larkin, Terror and Discord: The Shemus cartoons in the Freeman's Journal, 1920-1924 (Dublin: A&A Farmar, 2009)
The Reign of Terror: a series of Shemus cartoons printed in the Freeman's Journal during 1920-1921 (Dublin, 1922)
Felix M. Larkin, The Shemus Cartoons, Pue's Occurences: the Irish history blog, 17 December 2009
Shemus Cartoons from the Freeman's Journal, National Library of Ireland
"Artistic bombs - Irish history in cartoon form", BBC NI, 22 November 2010
Patrick M. Geoghegan, "Account of 'artistic bombs' by brilliant cartoonist", The Irish Times, 1 February 2010
Kenneth A. Jones, "Ye Atticke Abode", The Barwicker No. 9, March 1988
B. R. Hammond, "My Meeting with Edmond Bogg", The Barwicker No. 7
Community content is available under
CC-BY-SA
unless otherwise noted.