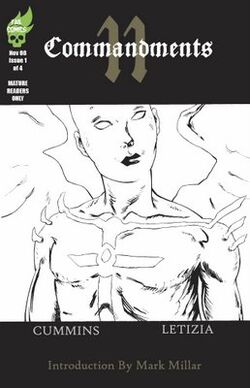 Fail Comics was a comics publisher and creative studio based in Ireland, with international members, founded in 2005 by Gareth Cummins and Paul Duffy, members of the hardcore punk band 20 Bulls Each.
Their first release was a six page sampler of Thorne ("The last of an alien race is stranded on earth, hunted by an intergalactic race of bounty hunters and earth military forces."), written and inked by Cummins, pencilled by American artist Kevin Long and coloured by Duffy, which was launched at the 2006 Dublin City Comic Con. A series was planned, but did not materialise. At the 2007 Con, they launched a preview of horror series 11 Commandments, written by Cummins, drawn by Italian artist Bruno Letizia and coloured by Duffy. A full first issue in black and white, with an introduction by Mark Millar, was launched at the 2008 Con. Again, a series was planned but did not appear. Other releases, including Legion of 2 ("Two castaways are left for dead on a desert island after WWII. 30 Years later and they are still alive and in their minds the war is still raging. What will happen when the island is sold to a multinational corporation looking to turn it into a resort for the rich and famous?"), Presidential ("The president of the united states of America has lost it. Lost it bad. Picture the worlds most powerful man loose in the white house with a gun and a raging hard on."), Year Zero and a relaunch of Thorne, were announced but did not happen. The Fail Comics website is no longer active.
External links
Edit
Community content is available under
CC-BY-SA
unless otherwise noted.