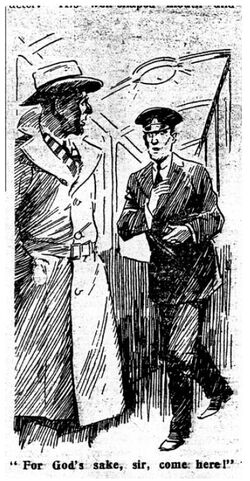 George Altendorf was born in Loughlinstown, south Dublin, in 1904, son of Harry Altendorf, a German-born hotel waiter, and his Irish wife Kate. The family moved to Carlisle, England, after George was born, but returned to Dublin after the First World War. He attended the Dublin Metropolitan School of Art, and later worked as a stained glass artist at the Harry Clarke Studios. When the Irish Press was launched in 1929 he was appointed its assistant art editor, later becoming art editor. In 1934 he exhibited with the Associated Irish Artists.
He contributed illustrations to The Capuchin Annual and the Father Mathew Record, and a history book produced for Nigerian primary schools by the Holy Ghost Fathers, and illustrated covers for a series of booklets published by Veritas Co Ltd. He also provided illustrations for the story paper Our Boys, and illustrated children's books by Patricia Lynch. He was the artist of the 1953 Christian Brothers' Irish language comic Éire, Sean is Nua. He died in Dublin on 19 August 1966.
The Turf-Cutter's Donkey Goes Visiting by Patricia Lynch (1935)
Ceathrar Comrádaí by Cathal Mac Aonghusa, Pádraic Ó Concheanainn, Sorcha Ó Guairim (1938)
Eibhlín agus Séamus by Patricia Lynch and Maighréad Nic Mhaicín (1943)
Community content is available under
CC-BY-SA
unless otherwise noted.