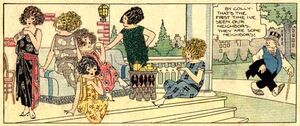 George McManus (23 January 1884 – 22 October 1954) was an Irish-American cartoonist best known as the creator of the syndicated comic strip Bringing up Father.
Born of Irish parents in St. Louis, Missouri, he dropped out of school at age fifteen and started working in the art department of the St. Louis Republic, where he created his first comic strip, Alma and Oliver. In 1905 he headed for New York City and a job with the prestigious New York World, where he worked on several short-lived strips, including Nibsy the Newsboy in Funny Fairyland, Panhandle Pete, Let George Do It, Snoozer, The Merry Marcelene, Ready Money Ladies and Cheerful Charlie. In 1904 he created The Newlyweds, about an elegant young couple and their baby, Snookums. This series, the first family strip in an American newspaper, became quite popular and caused rival newspaper the New York American to invite McManus to work for them, which he did from 1912 on.
He continued The Newlyweds, now renamed Their Only Child, and started up several other daily comics, like Rosie's Beau, Love Affairs of a Mutton Head, Spareribs and Gravy and the famous Bringing Up Father. This last, about an Irish immigrant worker, Jiggs, and his wife Maggie, began in 1913, was syndicated internationally by King Features Syndicate, and inspired several movies - in four of them, McManus himself played the role of Jiggs. When McManus died in 1954, Bringing Up Father was continued by Frank Fletcher and Vernon Greene.
George McManus died in 1954 in Santa Monica, California and was interred in the Woodlawn Cemetery in The Bronx, New York.
In 1995, Bringing Up Father was one of 20 included in the "Comic Strip Classics" series of commemorative United States postage stamps.
External links
Edit
Online reference
Edit
Community content is available under
CC-BY-SA
unless otherwise noted.