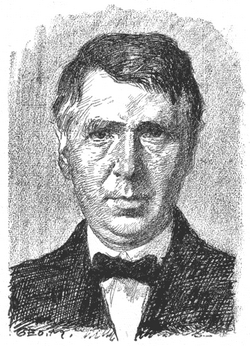 George Morrow (b. Belfast, 5 September 1869; d. Thaxted, Essex, 18 January 1955) was a cartoonist and book illustrator. He was the son of a painter and decorator from Clifton Street. Of his seven brothers, four, Albert (1863-1927), Jack (1872-1926), Edwin (1877-1952) and Norman (1879-1917), were also cartoonists.
Educated at the Model School and the Government School of Art, he was apprenticed as a signwriter. He contributed to an exhibition by the Belfast Ramblers' Sketching Club in 1888, and later studied in Paris, where he was influenced by the work of Caran d'Ache. In the mid to late 1890s he lived in Chelsea, London, where he made the acquaintance of Mark Twain. In 1896 he contributed illustrations to Pick-Me-Up and Mary Russell Mitford's County Stories.
He contributed to Ulad, a magazine associated with the Ulster Literary Theatre, in 1905. In 1906 he sat on the committee of the first Oireachtas Art Exhibition with Jack Butler Yeats and Sarah Purser, contributed cartoons to The Shanachie and Bulmer Hobson's separatist magazine The Republic, and began his long association with Punch. Over the years he contributed 2,704 cartoons, including 22 full-page political cartoons. He joined the staff of the magazine in 1924, and was art editor from 1932 to 1937. For many years, Morrow produced "Royal Academy Depressions", a series of comic parodies of Royal Academy pictures. Other publications he contributed to included the Bystander, Pall Mall Magazine, Sphere, The Strand Magazine, Tatler and Windsor Magazine.
Several collections of his cartoons were published. An Alphabet of the War (1915) reprinted cartoons from Punch Almanack. George Morrow: His Book (1920), More Morrow (1921) and Some More (1928) followed. He also illustrated more than 70 books by other authors, and created the satirical pictorial novel What a Life! with E. V. Lucas.
He lived most of his adult life in England, although he spent many summers painting watercolours in Ireland, particularly in County Donegal. Married with no children, he died at his home in Thaxted, Essex, about a month after his last cartoon appeared in Punch.
References
Edit
Theo Snoddy, Dictionary of Irish Artists: 20th Century, Merlin Publishing, 2002
George Morrow, George Morrow: His Book, Methuen & Co Ltd, 1920
Simon Houfe, The Dictionary of 19th Century British Book Illustrators, Antique Collectors' Club, 1996, p. 236
Ruth Devine, "Morrow, George", Dictionary of Irish Biography, (Eds.) James Mcguire, James Quinn, Cambridge University Press, 2009
External links
Edit
Online reference
Edit
Community content is available under
CC-BY-SA
unless otherwise noted.