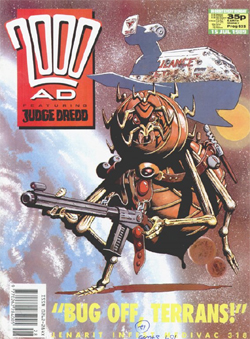 Hilary Robinson is a writer from Bangor, County Down.
In the early 1980s she contributed to the Belfast anthology Ximoc, and wrote science fiction and fantasy short stories. In the late 1980s she began writing scripts for 2000AD, beginning with a one-off written as an submission piece for artist John McCrea.
She began in 1988 with one-off Future Shocks and Strontium Dog spin-offs under the title Tales from the Doghouse. Her first series for the weekly was Zippy Couriers, drawn by Graham Higgins. The adventures of a futuristic all-female courier company with a talking cat, it had previously appeared in a Belfast fanzine (possibly Ximoc?), and ran from 1989 to 1990. This was followed with Medivac 318, a series about an ambulance crew in a space war, drawn by Nigel Dobbyn and partly based on a previously-published short story, which ran for two series in 1989 and 1990. She wrote Survivor, a spin-off from the 2000AD series Mean Team featuring an intelligent panther, drawn by Ron Smith, in 1989. Her third original series was Chronos Carnival, also drawn by Smith, about a space-travelling circus with a paraplegic hero, which ran for two series in 1990.
Her relationship with 2000AD broke down when editor Alan McKenzie told her he would be giving Medivac 318 to another writer. Robinson had never signed over her copyright in the characters, and after an exchange of solicitors' letters the publisher acknowledged that she owned the copyright in Medivac 318, Zippy Couriers and Chronos Carnival. A third series of Chronos Carnival, for which scripts and art had been completed, was shelved, and 2000AD never published another story by her.
Outside 2000AD, she wrote "Melissande", drawn by Nigel Dobbyn, for Mindbenders in 1992, and was one of the writers who contributed to the charity jam comics 'Orrible Murders (1992) and The Worm: the longest comic strip in the world (1999). She now paints with pastels, writes fairy tales to go with her paintings, and assists her husband Cameron Robinson in his historical interpretations. She was UK Ladies' Longbow Champion in 2007.
References
Edit
Online reference
Edit
Community content is available under
CC-BY-SA
unless otherwise noted.