Francis Kaye is an Irish cartoonist/illustrator. He drew 'The West Side' for The Galway Independent for 3 years. He drew the 'Vintage Vinny' strip for 'Vintage Motoring Scene' and 'P.J. the D.J.' for the Galway Observer.


Comics Published in Ireland
[
]
News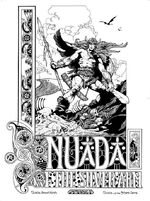 Will Sliney's Celtic Warrior: The Legend of Cú Chulainn, made the Irish Times bestseller list and is Ireland's fastest-selling graphic novel.
Jim Fitzpatrick drew Nuada of the Silver Arm for the Sunday Independent in 1974-75.
Gerry Hunt's At War with the Empire was nominated for Best Irish-published book in the Bord Gáis Energy Irish Book awards.
Results are now in on the 2012 Irish Comic News awards!
Barbara Nolan (right), cartoonist and illustrator, died at home in Allihies, West Cork, on 13 August 2012.
Recent additions
Sadhbh Lawlor | Splitting Borders | The Craigs | Space 1990 | Tom Carson | The Golden Walnut | Cat Tales for the Kiddies | Fonn | The Doings of Dudly | Darrin O'Toole | The Earthbound God | Desolate Ceremony | Noe: The Savage Boy | The Helix | Brendan McCarthy | Nigel Flood | Ryan O'Connor | Martin Greene | Frank J. Right | Naomi Bolger
Events 2008 | Events 2009 | Events 2010 | Events 2011 | Events 2012
Irish creators abroad
[
]
News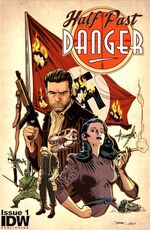 Stephen Mooney's pulp adventure serial Half Past Danger launched from IDW in the USA in May 2013.
J. R. Monsell, from Cahirciveen, County Kerry, drew for British nursery comics in the 1900s.
Bryan Coyle has been nominated for the 2013 Russ Manning Award for Most Promising Newcomer for his graphic novel Babble.
Irish artist S. W. Cavenagh drew for the British comic The Funny Wonder in the 1890s.
Irish-born cartoonist Joe Doyle drew strips for newspapers in Philadelphia and New Jersey in the 1910s.
Corkman W. Howard Baker was the editor who launched Air Ace Picture Library in 1960, and wrote scripts for many of Fleetway's picture library titles.
Recent additions
Little Reggie and the Heavenly Twins | The Wrangle Sisters | Rory McConville | Extracurricular Activities | The Mundane Overrated Misadventures of Spudman | J. Louis Smyth | Fizog | Mike Hubbard | Dorothea | Digitek | Peter Hoye | Presidential Material: John McCain | Patrick Hickey | Carnival of Cabbage | Waiting for the Mothership | Monstrum Horrendum | Tag Team | The Iron Moon | Harry McAvinchey
Irish cartooning
[
]
News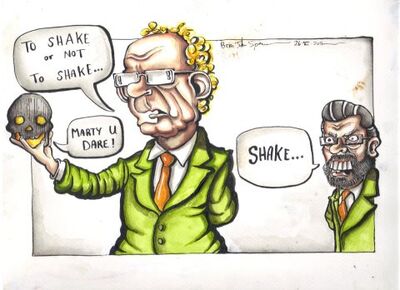 Alf S. Moore wasn't a cartoonist, but his Belfast-based satirical magazines The Magpie (1898-1902) and Nomad's Weekly (?-1914) provided a venue for cartoonists like Matt Sandford and David Wilson.
Belfast's Brian Spencer draws political cartoons for Slugger O'Toole and the Huffington Post...
Recent additions
Austin Molloy | The Celebrity Zoo | William Beckett ("Maskee") | William Brunton | Don Conroy | John Byrne | Illuminations: 101 Drawings from Early Irish History | Sean Mac Murchadha | Images of Erin in the Age of Parnell | Jon Berkeley | Apes and Angels: The Irishman in Victorian Caricature | The Book of Friers | Riotous Living | James O'Donnell | Bernard Dowd | Oisín | Q.E.D. | Phelim Connolly | The Unkindest Cut
Irish illustrators
[
]
News
We've been finding out more about Phil Blake, who, as well as drawing political cartoons for the Weekly Freeman around the turn of the 20th century, illustrated the "controversial and scurrilous" 1908 novel The Moneylender by Joseph Edelstein, depicting Jewish moneylenders in Dublin.
Recent additions
Basil Temple Blackwood | George Altendorf | Jon Berkeley | Philip Blythe | René Bull | Claude Byrne | Harry Clarke | Henry Edward Doyle | Beatrice Elvery | Jim Fitzpatrick | Richard King | P. J. Lynch | Norah McGuinness | W. C. Mills | George Monks | Seán Slattery | J. Louis Smyth | Hugh Thompson
Calendar
[
]
On this day: 28 June
Upcoming Events
December 2013
[
]
January 2014
[
]
All events 2012 | All events 2013
Helping out
[
]
To write a new article, just enter the article title in the box below.
<createbox> width=24 break=no buttonlabel=Create new article </createbox>
Read the draft article style guide for a little guidance on how to write articles.
Not sure where to start?
Adding content
Talk and more...
Check out the community portal to see what the community is working on, to give feedback or just to say hi.