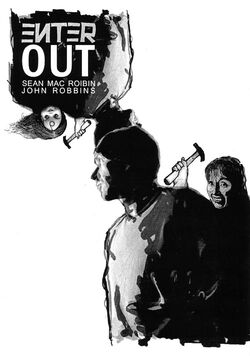 John Robbins, aka Sean MacRoibin (b. 1969). A Dubliner and pioneer of the slice-of-life comics sub-genre, mortal tedium, whose turn-of-the-millennium Leaflit series established his tendency for producing offbeat short stories and dense, confrontational one-page comic strips (or contra-comics). Under his own Downright Bockedy imprint, this work is collected and published in the photocopied small press volumes Negotiating the Beast, Vacancy for Satan and Sad Chemistry. Other works include the children's book trilogy Bockedy Book, the screenplay Coyote Road, the longer-form comics Inside Outsiders, The Monkey-Head Complaint and Enter Out, and the collection of short comics Mortal Tedium and The Well Below.
His earliest work appeared in the UK small press in the late 1980s, in titles such as Valhalla, Terra Waze, Delirious and FA. He has worked as an inker and letterer for Dark Horse Comics and Caliber Comics, and created the kids' section for The Tallaght Echo, Echo Joe (2002 – 2007). His work has appeared in several anthologies, most recently Sorry I can't take your call right now but I'm off saving the world (Ztoical Comics, 2008), The Girly Comic Book 1 (Factor Fiction, 2008), Side B: The Music Lover's Comic Anthology (Poseur Ink, 2009) and Machines, Miracles or Magic? (Lee Grace, 2009). His prose short story "Something Occurred; Bennie On The Loose" featured in Emerald Eye (Aeon Press, 2005), an anthology of the best Irish imaginative fiction. Since 2010 he has contributed short strips to the online zine FA, and he letters Paul H. Birch's webcomic Carter's Column for the Birmingham Mail website.
Since 2000, he has also written a hundred or so small press comics reviews, published on TRS2, many housed on his Small Scrutinies blogspot. He is also a frequent poster to Bugpowder.com.
Further details on John Robbins can be gleaned from his autopsychography Stripped Bare: An Introduction To Sean MacRoibin.
Community content is available under
CC-BY-SA
unless otherwise noted.