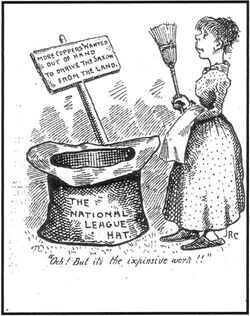 Joseph Robert Clegg, a cartoonist, illustrator and journalist who signed his work JRC, was born in County Cavan c. 1852. His earliest caricatures related to political events in County Tyrone during the General Election of 1880 and the by-election of 1881. In 1883 he illustrated Ethel Greene's novel Not Divided as it was serialised in the Weekly Freeman. In 1885 he contributed an illustrated column, "Dan's Dublin Letter", for the conservative English journal St. Stephen's Review. From 1890 to 1892 he drew political cartoons for the unionist periodical The Warder & Dublin Weekly Mail. In the 1900s he drew the cartoons in a series of pamphlets published by the Irish Loyal and Patriotic Union, attacking nationalist politicians for incompetence and corruption.
He published a book of his cartoons, The Hush-a-Bye Papers Illustrated, and wrote humorous articles for The Irish Times for a number of years. He was a member of the Council of the National Literary Society, and was also prominent in the Boy Scout movement. He was living in Rathmines, Dublin, in the 1901 and 1911 censuses. He died on 8 July 1922.
References
Edit
Joel A. Hollander, Coloured Political Lithographs as Irish Propaganda, The Edwin Mellen Press, 2007
"Death of Mr. J. R. Clegg", The Irish Times, 10 July 1922
Lawrence W. McBride, "Historical Imagery in Irish Political Illustrations", New Hibernia Review/Iris Éireannach Nua Vol. 2 No. 1, 1998, pp. 9-25
Community content is available under
CC-BY-SA
unless otherwise noted.