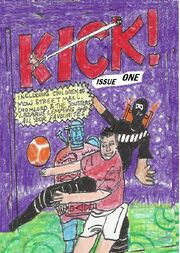 Kick! is a mini-comic created by
Andrew Luke
for the Belfast ComicBook and Collectors Fayre in December
2012
.
The stories were new strips consisting largely of pop culture humour.
Each issue contained Kickings!, an editorial with made-up letters to the editor, and an Introduction page attributed to Daley Thompson (#1), Dr. Theopolis (#2), and Andy Luke (#3)
Much of the content came from chats with Brighton cartoonist Sean Duffield (#3), and Irish comixer Gar Shanley, the latter in relation to the Courageous Mayhem anthology. The first issue draws largely from IPC's 1980s Eagle comic, notably Doomlord, but also the use of Walk or Die in The Children of Mow Street Mall.
Issues 1 - 3 were printed in black and white. Each issue used a single A4 master to create16 x A7 pages.
Higher quality PDF versions using colour went on sale through Luke's website the following week.
The Dandy, do they still have that?
The Bill Have A Gun Siege At Xmas
The Youth of 2042 (Text story)
Sounds Round 'Ere
Automan (Reprinted from Andrew Luke's Comic Book #4)
Doodoo-Doodoo-Doodoo (with Brighton cartoonist Sean Duffield)
English Mug, Irish Fart
Noam Chomsky and His Cardigan of Courage
Jessica Fletcher is Innocent
External Links
Edit
Community content is available under
CC-BY-SA
unless otherwise noted.