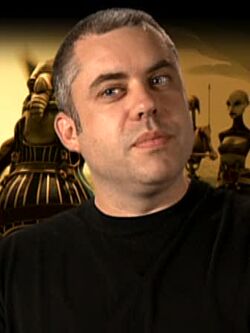 Kilian Plunkett is an artist born and raised just outside Dublin. He is currently the lead character designer on the Star Wars: The Clone Wars animated series for Lucasfilm Animation, and lives in San Francisco.
He moved to the USA in the early 1990s, and was hired by Dark Horse Comics to draw two Aliens stories, the miniseries Labyrinth, and the serial "Backsplash" in the anthology Dark Horse Presents, both published in 1993. He drew three more Aliens miniseries, Berserker (1995), Kidnapped (1997) and Havoc (1997).
In 1994 he drew an original steampunk serial, The 8th Wonder, written by Peet Janes, which initially appeared in Dark Horse Presents and was later collected in a single volume in 1997. Also at Dark Horse in 1994, he drew the comics adaptation of the film The Mask.
1994 was the year he began his association with Star Wars, drawing covers for Dark Horse's Star Wars: Droids series. He provided cover artwork for numerous Star Wars comics, as well as interior art for the miniseries Shadows of the Empire (1996) and Mara Jade: By the Emperor's Hand (1998) and the one-shot The Jabba Tape (1998). He wrote and drew "Sandblasted" in Star Wars Tales #4, and drew "Thank the Maker" in #6 (both in 2000).
He has also worked at DC, drawing the miniseries The Unknown Soldier, written by Garth Ennis, for Vertigo in 1997, and Trouble Magnet, written by Ryder T. Windham, in 2000. He was the co-artist, with Dave Johnson, on Mark Millar's "Elseworlds" miniseries Superman: Red Son in 2003, and drew JLA: Classified and the comics adaptation of the film Batman Begins in 2005. For 2000AD he drew Judge Dredd in 1998. In 2008 he and three other Bay-area artists published Battle Milk, a book of their art and design.
Community content is available under
CC-BY-SA
unless otherwise noted.