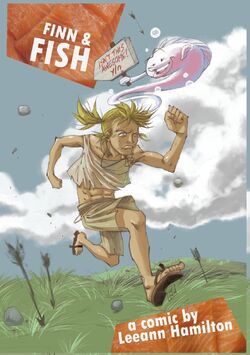 Leeann Hamilton is an Irish comic artist currently based in Meath. She studied at the Irish School of Animation and is a graduate of the West Wales School of the Arts, and has worked with Cartoon Saloon, Kavaleer Productions and Jam Media. With writer Sinead Lynch, she created zombie comedy "Shinimegami Kate" for Havoc 21 in 2005. The same team created Rose by Any Other Name, an apocalyptic tale of gender and family values, which was a runner-up in the TokyoPop Rising Stars of Manga UK & Ireland competition in 2006, and a fantasy pirate story, Bonny Buccaneers, for TokyoPop's Manga Pilot line, in 2008. Leeann is currently creating and self-publishing Finn & Fish, based on the legends of Finn mac Cumhaill and the Salmon of Knowledge since 2010 and all four issues have currently been collected into a graphic novel in 2013, called Finn & Fish: The Wash Cycle. 
Finn and Fish also recieved a news feature in ImagineFX #88.
Community content is available under
CC-BY-SA
unless otherwise noted.