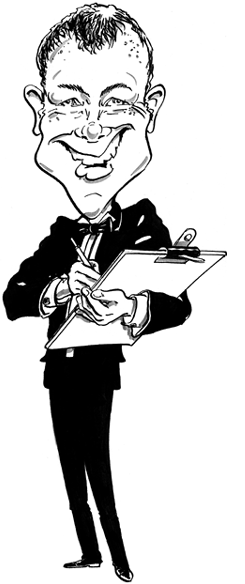 Mark Nesbitt is an Irish cartoonist and caricaturist who has worked under the pen name Luke Warm since 1990.
His cartoons were first published in the Sunday Tribune in 1981, and he was joint winner of a competition in the Guardian in 1985 with a cartoon about the famine in Ethiopia and Sudan. From 1990 to 1992, as Luke Warm, he had a regular cartoon, "Fence Sittin'", in the Botswana newspaper Mmegi. He moved to London in August 1992, and has since had his cartoons published in the Financial Times, The Irish Times, The Sunday Business Post, The Sunday Times, the Times Educational Supplement, the Independent, the Independent on Sunday, the London Evening Standard, the Financial News, the New Stateman, Scallywag, Third Sector, Magill, Business & Finance and The Phoenix. His finance and office-based comic strip, "Punters", was syndicated by the Press Association for two years. Another strip about internet trading, Net Head, ran in the Financial Times from 1999-2000.
In 1995-1996 he was sponsored by the Midland Independent Newspaper Group to take a Cartoon MA at the University of Central England, in which he gained a Distinction. His study into the censorship of cartoons formed the basis of Index on Censorship's cartoon site, and he was involved in setting up The Great Challenge international cartoon exhibition in London in 1998.
Since then he has drawn for the Daily Telegraph and illustrated textbooks for Oxford University Press, as well as drawing on-the-spot caricatures. Since 2003 he has lived in Devon, where he publishes his own West Country Prints, and is working on an as-yet-unpublished new strip, Back to the Drawing Board, about global issues since 9-11.
External links
Edit
Community content is available under
CC-BY-SA
unless otherwise noted.