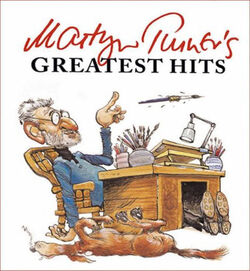 Martyn Turner is a political cartoonist, caricaturist and illustrator whose work appears daily in The Irish Times. Although born in England, he has lived and worked in Ireland since the late 1960s and holds an Irish passport. He lives in County Kildare.
Turner was born in 1948 in Wanstead, Essex, and grew up in London. He moved to Belfast in 1967 to study geography at Queen's University, and discovered one of his grandmothers was born on the Falls Road, qualifying him for an Irish passport. Around 1970 he began drawing cartoons for the Sunday News. After graduation he worked for the Belfast current affairs magazine Fortnight, and became its editor. In 1976 he was hired by The Irish Times as its political cartoonist. His work is syndicated to over 200 journals and newspapers around the world by the Cartoonists and Writers Syndicate.
He contributed to The Yellow Press in the 1990s. Together with Terry Willers, he organised the Guinness International Cartoon Festival in Rathdrum, County Wicklow, from 1992 to at least 1998. He was named European Political Cartoonist of the Year at the 30th Italian Festival of Satire in 2001.
Bibliography
Edit
External links
Edit
Online reference
Edit
Community content is available under
CC-BY-SA
unless otherwise noted.