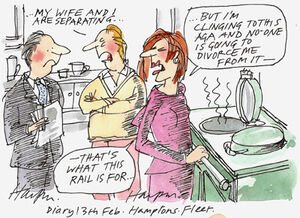 Merrily Harpur (b. 2 April 1948) is a painter, cartoonist, illustrator, journalist and poet. She was educated at Headington School, Oxford and Trinity College, Dublin, and after a period restoring oil paintings she became a freelance cartoonist and writer, working for The Guardian (from 1978), Punch, The Times (for which she created the strip "Flavia Corkscrew's Good Food Guide"), the Sunday Telegraph (for which she created the strip "The Arcadians" and the weekly cartoon "The Chattering Classes"), the London Evening Standard (for which she created the weekly "Estate Agent's Diary" strip) and others in Britain, and The Irish Times, the Irish Independent and the Irish Tatler in Ireland. She also produced the cartoon backdrops and titles for Miles Kington's TV series Let's Parler Franglais.
She has published five books: The Nightmares of Dream Topping (1985); Unheard of Ambridge (1987); Pig Overboard (1990); Mystery Big Cats (2006), investigating sightings of big cats in Britain; and Roaring Dorset! Encounters with Big Cats (2008) on the same subject. She has illustrated books by a number of authors, including Kingsley Amis, Miles Kington, Gerald Durrell and James Fenton, and exhibited paintings in England and Ireland.
She has lived in Ireland since 1988, initially in County Cork, and currently in County Roscommon. She commutes between there and Dorset, a hotspot of big cat sightings, where she runs a website, dorsetbigcats.org.
She co-founded the Strokestown International Poetry Competition and Festival in 1998, serving as director from 1998 to 2004, and again in 2009-2010. Her poetry has been published in Poetry Ireland Review. She won the Irish K250 International Poetry Prize in 2004, and has been shortlisted for the Irish National Poetry Competition and the Poetry Society's Competition in the UK.
She writes on the subject of Irish traditional music, including sleeve notes for albums by Matt Molloy and John Carty. She has written on the subject of fox hunting for The Field, The Guardian, The Sunday Times and The Listener. She also designs websites.
References
Edit
Mark Bryant, Dictionary of Twentieth Century British Cartoonists and Caricaturists, Ashgate, 2000, pp. 103-104
External links
Edit
Online reference
Edit
Community content is available under
CC-BY-SA
unless otherwise noted.