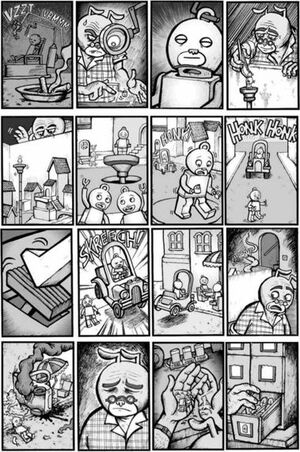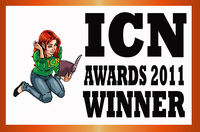 Mister Amperduke is graphic novel by Bob Byrne, published by Byrne's Clamnuts Comics in 2007. Sherman Amperduke is a retired senior citizen whose hobby is creating and tending to the miniature world he has created and keeps in his basement. Amperville is built with Lego bricks, and its inhabitants resemble Lego figures, but are in fact living beings encased in a plastic casing. The stories are told without dialogue or narration - aside from sound-effects, the storytelling is done entirely visually.
The characters and setting were introduced in a six-page story in issue 3 of Mbleh!, published by Clamnuts Comix in 2003, in which Mister Amperduke attempts to introduce three new citizens to Amerville without plastic casings. This story has been described as a 'powerful allegory,' dealing with racism and intolerance. It was later reprinted in the Judge Dredd Megazine in 2006, and is also included in the graphic novel.
The graphic novel tells how, one summer, Mister Amperduke's grandson Scampi, while his grandfather is in hospital, throws a voracious little creature from the garden, the Nechradon, into Amperville, and the creature wreaks havoc among the terrified inhabitants of the mini-utopia.
The graphic novel features themes of man's willingness to play God, and the role of science and eugenics (the sophisticate technology used to create and sustain life for Amperduke's simple 'hobby') versus Mother Nature (the Nechradon, the unstoppable force that ruins Amperville and devours it's inhabitants). Byrne says in the introduction to the graphic novel that his main theme is the limitation of our understanding of the inner pain of others, and how we are incapable of recognising "the hidden agony when somebody's world ends".
External links
Edit
Community content is available under
CC-BY-SA
unless otherwise noted.