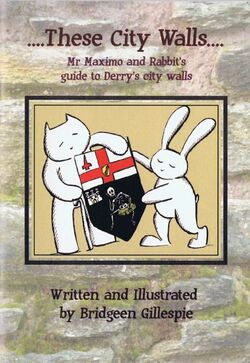 Mr Maximo and Rabbit is a series of comics by Bridgeen Gillespie, in which Mr Maximo, a cat, and Rabbit, a rabbit, ponder questions and issues of interest. The characters appeared in minicomics and short strips in various anthologies, which were later published in collected editions by Bridgeen. The first volume, "Sunday Afternoon Philosophy Lectures, was published in 2004, followed by a second, "On Gothic, Romance and Rabbits" in 2006, and a Collected Edition in June 2008. In 2010 She published the first long-form Mr Maximo and Rabbit story, These City Walls, in which the characters discuss the history of Derry's walls.
External links
Edit
Community content is available under
CC-BY-SA
unless otherwise noted.