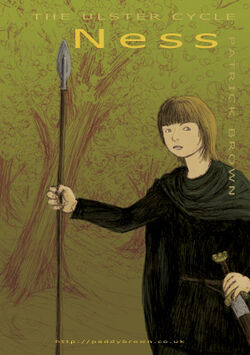 Ness is an epic webcomic in the Ulster Cycle series by Patrick Brown. In Iron Age Ireland, the king of Ulster is powerless to stop a murderous outlaw, so his daughter Ness turns outlaw herself to hunt him down. But with war looming between the kingdoms of Ireland, will her father's house still be there to come back to when the job's done?
Based on stories from the Ulster Cycle of Irish mythology, it was serialised on the web from May 2007 to July 2008. A print edition - 72 pages plus notes - was launched at the 2008 Dublin City Comic Con, and is available to buy at paddybrown.co.uk, price £4.99.
Ness was improvised in ink, without script or pencils. It is a prequel to Brown's current webcomic, The Cattle Raid of Cooley, set two generations later.
Praise for The Ulster Cycle: NessEdit
What an impressive debut. It's as though writer/artist Patrick Brown found a window looking into the past, and he decided to smash it and climb on through. Here is a thoroughly modern form of Irish storytelling that makes the past very much the present. It's as though he were standing over the still bleeding and battered corpse of Darby O'Gill with the murder weapon in his hand - his weapon of choice a biro. This is not murder. This is a beautiful act of mercy.
Malachy Coney
Finally a comic from Northern Ireland that can be read anywhere - Patrick Brown weaves a wonderful tapestry of rich characters,intertwining centuries-old legends with 21st Century artwork to die for. Wonderful!
Davy Francis
External links
Edit
Online reference
Edit
Community content is available under
CC-BY-SA
unless otherwise noted.