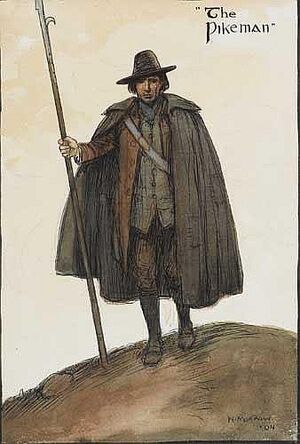 Norman Macnamara Morrow (b. Belfast, 21 August 1879; d. Chelsea, London, 8 September 1917) was a cartoonist and topical illustrator. He was the son of a painter and decorator from Clifton Street, west Belfast. Of his seven brothers, four, Albert (1863-1927), George (1869-1955), Jack (1872-1926) and Edwin (1877-1952), were also cartoonists.
He was educated at the Government School of Art, contributed cartoons and theatre sketches to The Magpie in 1901 and 1902, and was a member of the Belfast Art Society. He moved to London, where he was a member of the Chelsea branch of Bulmer Hobson's Dungannon Club, and contributed to Ulad in 1914, and to Bulmer Hobson's Belfast-based separatist magazine The Republic in 1907. He illustrated a number of books and designed posters, and his drawings appeared in The Graphic and the Bystander. During the First World War he travelled to Belgium and illustrated aspects of life under war conditions. A bachelor, he died at his home in Chelsea.
References
Edit
Theo Snoddy, Dictionary of Irish Artists: 20th Century, Merlin Publishing, 2002
Ruth Devine, "Morrow, George", Dictionary of Irish Biography, (Eds.) James Mcguire, James Quinn, Cambridge University Press, 2009
Community content is available under
CC-BY-SA
unless otherwise noted.