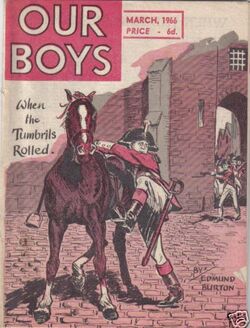 Our Boys was a boys' story paper published by the Educational Company of Ireland and the Christian Brothers, beginning in 1914. Modelled on the British "Boy's Own" tradition but informed by a Catholic and nationalist ideology, it included cartoons and prose adventure adventure stories in English and Irish. Like the British story papers it was based on, it included detective, western, explorer, boarding school, historical advanture and even science fiction stories, usually with Irish heroes.
Illustrators whose work was published in Our Boys include W. C. Mills, Gordon Brewster, George Altendorf, Gerrit van Gelderen, George Monks and M. J. O'Mullane. From 1946 it had an Irish language comic supplement, Tír na nÓg. It also had Irish-language prose supplements, Ár mBuachaillí and An Gael Óg, at various times, and there was a girls' counterpart, Our Girls. Our Boys ceased publication in the 1990s.
Community content is available under
CC-BY-SA
unless otherwise noted.