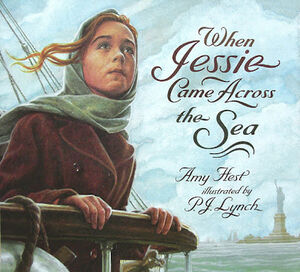 Patrick James Lynch, artist and children's book illustrator, was born in Belfast on 2 March 1962, and was a keen artist as a child. He studied at Brighton College of Art, leaving in 1984 and becoming an illustrator.
His first book was Alan Garner's A Bag of Moonshine (1986), a collection of English and Welsh folk tales, for which he received the Mother Goose Award for the "most exciting newcomer to British children's book illustration". He also illustrated Susan Wojciechowski The Christmas Miracle of Jonathan Toomey (1995), which sold over a million copies, and for which he was awarded the Kate Greenaway Medal and the Christopher Medal.
He has created posters for Opera Ireland and the Abbey Theatre, illustrated four sets of Christmas stamps for An Post, and painted murals on the theme of Gulliver's Travels for Cavan County Library. He lives in Dublin with his wife Barbara and their three children.
Books illustrated
Edit
Alan Garner, A Bag of Moonshine, 1986
Joyce Dunbar, Raggy Taggy Toys
E. Nesbit, Melisande
William Butler Yeats, Fairy Tales of Ireland
George W. Dasent (trans.), East o' the Sun and West o' the Moon
Hans Christian Andersen, The Steadfast Tin Soldier
Sarah Hayes, The Candlewick Book of Fairy Tales
Hans Christian Andersen, The Snow Queen
Antonia Barber, Catkin
Susan Wojciechowski, The Christmas Miracle of Jonathan Toomey, 1995
Brendan Behan, The King of Ireland's Son
Amy Hest, When Jessie Came Across the Sea, 1999
P. J. Lynch, An ABC Picture Gallery
Douglas Wood, Grandad's Prayers of the Earth
Marie Heaney, The Names Upon the Harp: Irish Myth and Legend
Gina Wilson, Ignis
Frank R. Stockton, The Bee-Man of Orn
Charles Dickens, A Christmas Carol
O. Henry, The Gift of the Magi
Rosemary Wells, Lincoln and His Boys, 2009
External links
Edit
Online reference
Edit
Community content is available under
CC-BY-SA
unless otherwise noted.