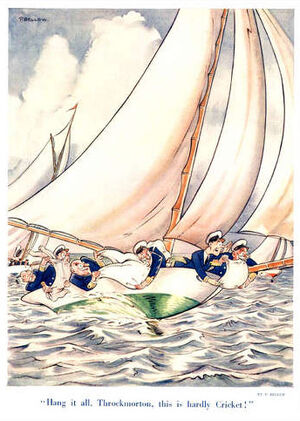 The Hon. Patrick Herbert (Paddy) Bellew (b. Dunleer, County Louth, 2 April 1905; d. Litchfield, Connecticut, USA, 1984), a half-brother of the 5th Baron Bellew, was a cartoonist whose cartoons appeared in the Bystander, the Tatler and Men Only in the 1930s, signed P. Bellew or PHB. He published two books of cartoons, Point of View (1935) and Private View (1937).
He was also a commercial artist, creating advertisements for Scrubb's Ammonia, Oxo and others, and drew a 24' x 5' drawing entitled "The Ruthless Hunt" which covered three walls in Punch's Club in London, and a book illustrator. During the Second World War he served in the Royal Naval Reserve, before moving to New York and serving in the US Army from 1942, and producing training films and cartoons. After the war he worked in advertising for companies like McCann Eriksson and Esso. He produced very few cartoons after 1960.
Although right-handed, Bellew drew and painted left-handed. He worked in pen, brush and ink, wash, pencil and crayon in a style influenced by H. M. Bateman. He may have been a distant relative of the American cartoonist Frank Bellew.
References
Edit
Mark Bryant, Dictionary of Twentieth Century British Cartoonists and Caricaturists, Ashgate, 2000, p. 21
Community content is available under
CC-BY-SA
unless otherwise noted.