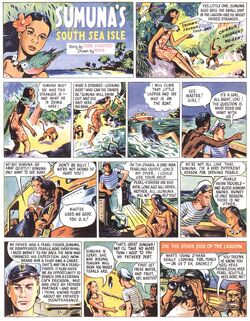 Frederick Walter Nevin, known as Pat, Paddy, or P. F. Nevin, born near Ballymena, County Antrim, on 17 March 1912, died in Pinner, Middlesex, on 25 April 1995, was a comics artist, illustrator and painter who worked for Eagle, Girl, Swift, Boy's Own Paper, TV Comic and others in the 1950s and 60s. He is probably best known for drawing "Captain Starling", written by George Beardmore, in Girl in 1951. He drew adventure strips, and strips based on popular children's TV programmes, including Bizzy Lizzy, Camberwick Green, Ivor the Engine, The Pogles, The Herbs, and The Woodentops.
The son of Francis Nevin, a cloth exporter, and the sixth of seven children, he had a talent for drawing at an early age, copying First World War battle scenes from newspapers at the age of three. His father died when Pat was only eight. He studied art for three years from the age of 16. In the 1930s, after attending the Tourist Trophy in Newtownards and meeting Malcolm Campbell, he became known for his oil paintings of motor racing, and he became the official motor racing artist for The Motor magazine, travelling to all the major racing events. He also worked as a set designer in the British film industry, including films such as Alfred Hitchcock's The Lady Vanishes.
During the Second World War he enlisted in the RAF, where he worked as a photographic interpreter in England and North Africa. After the war he settled in Pinner with his wife, Angela, and became a freelance commercial artist. In the 1950s he painted a number of of Scarborough, Jersey, Brittany, Ulster and the South of France for British Railways, and also painted posters for Cunard Shipping Line. In later life he ret1red from commercial art, and painted landscapes, seascapes, and motor racing scenes. In the late 70s he had a brief period of fame when his work was featured in Classic Car magazine. After his death, an art gallery in north London was named Nevin House in his honour.
External links
Edit
Community content is available under
CC-BY-SA
unless otherwise noted.