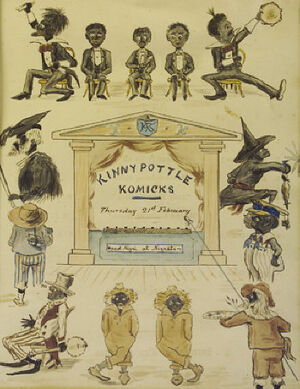 William Percy French (1 May 1854 – 24 January 1920) was a singer-songwriter, watercolourist and occasional cartoonist.
He was born at Cloonyquin House, near Elphin, County Roscommon, the son of a Protestant landlord. While studying at Trinity College, Dublin, in 1877, he wrote his first successful song, "Abdul Abulbul Amir". He graduated as a civil engineer in 1881 and became Inspector of Drains for the County Cavan Board of Works, painting watercolours and writing songs in his spare time. After he lost this job in 1887 he became the editor of a weekly comic paper, The Jarvey, to which he contributed satirical cartoons, stories, articles and poems. He also formed the Jarvey Concert Company, performing comic operas.
After the paper folded he began a successful career as a writing and performing comic songs, such as "Phil the Fluther's Ball", "Slattery's Mounted Foot", "Come back Paddy Reilly to Ballyjamesduff", and "The Mountains of Mourne" (co-written with Dr W. Houston Collisson). His song "Are Ye Right There Michael", ridiculing the rail system in County Clare, led to the West Clare Railway suing him for libel. French won the case after turning up late to court, and when asked by the judge for an explanation, responded, "Your honour, I travelled by the West Clare Railway."
Many of his concert programmes were illustrated with his cartoons: the illustration right is for a revue he performed with at Trinity. French, blacked up, is the banjo player.
French took ill during a performance in Glasgow, and died of pneumonia a few days later in Formby, Lancashire, at the age of 65.
Community content is available under
CC-BY-SA
unless otherwise noted.