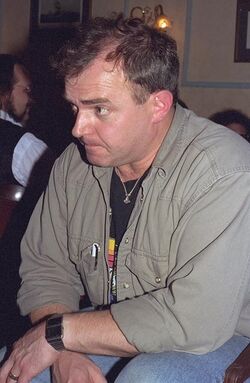 Peter Morwood, born Robert Peter Smyth in Lisburn, County Antrim in 1956, contributed to the Belfast small press anthology Ximoc in the 1980s. He has since gone on to be a fantasy and science fiction novelist and screenwriter. He currently lives in County Wicklow.
His contributions to Ximoc included a strip featuring his character Aldric, from his "Horse Lord" novels (see below); an illustrated story which would later appear, in reworked form, in the novel The Demon Lord; a science fiction short story, and a script for one of William Simpson's "Cuchulainn" stories.
He also contributed scripts to Eclipse Comics' Fusion: "Heat", drawn by Larry Dixon, and "Station Break", drawn by Phil Foglio, in issue 6 (1987), and "The Devastator Affair", co-written with Brynne Stephens and drawn by Lela Dowling and Steve Gallacci, in issues 11-12 (1988).
He studied English literature at Queen's University, and took a job with the Civil Service in Customs and Excise, during which period he began his first novel, which he sold in 1982. His pen-name, Morwood, is his mother's maiden name; he legally changed his name to Morwood in the mid-1980s. He is married to the fantasy and science fiction author Diane Duane, to whom he was introduced at a science fiction convention in Glasgow by Anne McCaffrey.
His novels include the "Book of Years" series, set in a feudal fantasy realm called Alba, in which various clans struggle for dominance. Four books - The Horse Lord (1983), The Demon Lord (1984), The Dragon Lord (1986) and The Warlord's Domain (1989), have so far been published, as individual books and as two omnibus editions, The Book of Years Vols 1 and 2. Two prequels have been published under the "Clan Wars" banner: Greylady (1993) and Widowmaker (1994). He has also published three novels in the "Tales of Old Russia" series, based partly on Russian folklore and legend: Prince Ivan (1990), Firebird (1992) and The Golden Horde (1993)
He has written two Star Trek novels, The Romulan Way (1987, with Diane Duane) and Rules of Engagement (1990). In collaboration with Duane, he has written three novels in the "Space Cops" series, Mindblast (1991), Kill Station (1991) and High Moon (1992), as well as Keeper of the City (1989) and SeaQuest DSV (1993).
He and Duane have written scripts for animated series, including Gargoyles and Batman: the Animated Series. They also wrote the German TV miniseries Die Nibelungen, based on German legend, in 2002-2003, an English-language cut of which was screened in the UK as Sword of Xanten on Channel 4 in 2005. It was also screened in the US as Dark Kingdom: The Dragon King on the Sci-Fi Channel in 2006. It has been released on DVD under many titles, including Curse of the Ring.
External links
Edit
Online reference
Edit
Wikia: DC Animated | Star Trek A
Community content is available under
CC-BY-SA
unless otherwise noted.