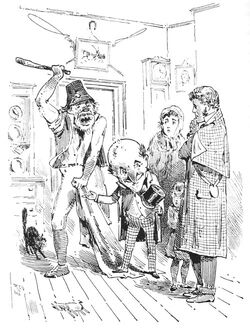 Richard Francis Caulfield (R. C.) Orpen (b. Blackrock, County Dublin, 24 December 1863; d. 27 March 1938) was a landscape painter, architect, cartoonist and comic performer. His brother, Sir William Orpen, was also a cartoonist as well as a well-known portrait painter.
He came from a landowning family, the Orpens of Stillorgan, County Dublin, and became a successful architect. A friend of Percy French, he performed in French's entertainments, including live sketching, recitations, and a comic lecture accompanied by magic lantern slides, illustrated covers for French's comic songs, and was chief cartoonist of French's comic magazine The Jarvey. He wrote and illustrated The Comic Irish Alphabet for the Present Time, published by Young Ireland & Co.
He exhibited more than a hundred paintings and architectural drawings at the Royal Hibernian Academy between 1888 and 1936, and was the RHA's secretary from 1925 to 1937. He was a governor of the National Gallery of Ireland, and from 1914 to 1917 was president of the Royal Institute of Architects of Ireland. He also exhibited more than a hundred pieces at the Water Colour Society of Ireland, and was involved in the Arts and Crafts Society of Ireland and the United Arts Club, Dublin.
Community content is available under
CC-BY-SA
unless otherwise noted.