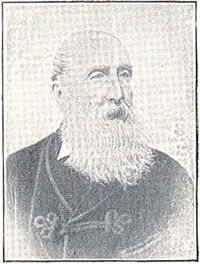 Robert Jacob Hamerton was a cartoonist and illustrator from County Longford who drew for Punch from 1842 to 1848, sometimes under the name Shallaballa. In cartoons on Irish subjects, he often depicted Irish people in a stereotyped, ape-like fashion, following the fashion established by John Leech, and was hostile to Daniel O'Connell's Repeal campaign.
He began teaching drawing in a County Longford school at the age of 14, later moving to London, where he was employed by Charles Hullmandel, considered the father of lithographic art in England. Although his cartoons and book illustrations were engraved on wood, and he also painted in oils and watercolour, he spent most of his career as a lithographer, until 1891, "when the drawing on the huge stones became too much for my old back." He died in Stamford, Lincolnshire, in 1904, aged 94.
Simon Houfe, The Dictionary of 19th Century British Book Illustrators, Antique Collectors' Club, 1996, p. 165
Biography at Scoop! (subscription required)
M. H. Spielmann, The History of Punch, 1895, pp. 452-453
Multitext Project in Irish History: Cartoons and Caricatures of O'Connell
G. J. Watson, Books, The Independent, 1 January 1994
Cartoons by R. J. Hamerton at punchcartoons.com
Community content is available under
CC-BY-SA
unless otherwise noted.