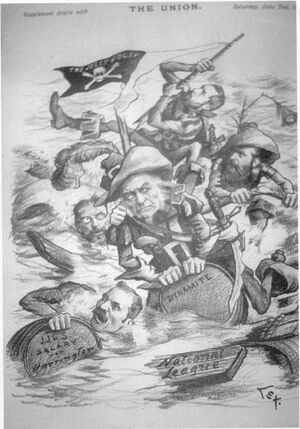 Richard Thoman Moynan (b. Dublin, 27 April 1856; d. Rathgar, 10 April 1906) was portrait and genre painter and political cartoonist.
He studied at the Royal College of Surgeons in Dublin, but, having almost finished the course, he left and enrolled in the Royal Dublin Society School of Art. He began exhibiting his paintings at the Royal Hibernian Academy in 1880. In 1883 he entered the Académie Royale des Beaux-Arts in Antwerp, where he lodged with his fellow student, the painter Roderic O'Conor, and studied under the Belgian painter Michel Marie Charles Verlat. In 1885 he briefly studied in Paris under William Adolphe Bouguereau, before returning to Dublin the same year, where he established himself as a painter of portraits and street scenes. He was awarded associate membership of the Royal Hibernian Academy in 1889, became a full member in 1890, and remained one of the RHA's most popular exhibitors until 1903. He was also the principal cartoonist of The Union, a unionist newspaper, signing his work "Lex".
Community content is available under
CC-BY-SA
unless otherwise noted.