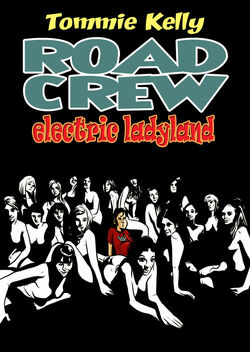 Road Crew (not everyone can be a rock star!) is a webcomic by Tommie Kelly, following Jim the sound guy, Matt the lighting guy and Eric the roadie, working behind the scenes for touring rock band Broken Watch. The comic was launched on 30 April 2008, updating Monday to Friday for most of its run.
The first Road Crew trade collection, "Electric Ladyland", was released in November 2009. A second, "Nothing's Shocking", followed in March 2010, followed by The Complete Road Crew in November 2010.
The story took a more serious turn, away from gag-a-day strips to a continuing narrative, with the storyline "For Sale", beginning in February 2010, in which Jim is granted his heart's desire by the omnipotent author, and learns the truth about his father. This was such a departure that it was eventually split off to its own site, From Rags to Rockstars. A 9-page prologue and the first 11-page chapter ran on the web from 14 February to 7 March 2010. A print edition of the first book was published in May, containing 31 new pages.
The story continued with an interlude in Tommie Kelly Presents, and then a new series of Road Crew began on Irish Comic News in October 2011.
External links
Edit
Community content is available under
CC-BY-SA
unless otherwise noted.