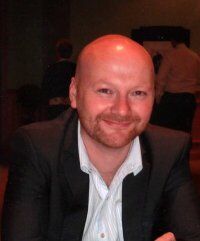 Rob Curley is a Dublin-based comics writer, publisher and retailer. He opened the Sub City comic shop in Dublin with his brother Brian in 1994, and a second branch in Galway in 1997.
He launched the publishing company Atomic Diner in 2003, publishing Gerry Hunt's In Dublin City and the anthology Naked Lunch. In 2004 he launched his Eagle Award-nominated crime series Freakshow. 2007 saw the release of Atomic Rocket Group 66, a 1950s superhero pastiche. In 2010 he wrote a preview of Formation Seven, drawn by Gary Gowran, a superhero/spy story set in America during the 1980's.
Since 2010 he has been busy creating an interlocking range of adventure series set at various points in Irish history. Some, like 1940s superteam The League of Volunteers (2011-), First World War hero The Black Scorpion (2012) and 18th century swashbuckler The Crimson Blade (2012), he writes himself. Others are scripted, from Rob's plots, by Maura McHugh (Róisín Dubh, 2010-; Jennifer Wilde, 2011-) and Malachy Coney (Noe the Savage Boy, 2012).
External links
[
]
Press
[
]
Online reference
[
]