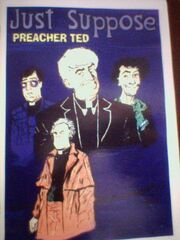 Stuart Luke
is a Belfast-born cartoonist and singer/songwriter, and brother of comics creator
Andrew Luke
.
Stuart, being the more naturally visual artistic inclined member of the Luke family, was encouraged by his brother Andrew to include work in his Bob's comic. Stuart drew the cover for the first issue, and created the strip "Bob's Dogs", a one page short about four dogs, Elke, Duke, Lady and Jules, which was to feature in every issue. Encouraged by the reception this received, Stuart produced a 12-page comic as his entry for his GCSE Coursework, entitled Just Suppose, where he explored what might happen if the Eastenders' Mitchell Brothers might come into conflict with Richard Whitely and Carol Vorderman.
Keen to expand the local comics community links, Andrew began to sponsor Stuart financially, though they were to share the publishing workload and costs. Under the imprint of Luke Books the brothers produced a hefty amount of work between them in a short space of time.
Stuart produced three issues of Just Suppose in total, the second of which was scripted by Andrew. The third was a blending of Preacher and Channel 4 comedy Father Ted, behind a painted cover by P. J. Holden. "Preacher Ted" was the most successful of the booklets, as Stuart emulated the drawing style of Preacher artist Steve Dillon and cartoonist John Ireland. Stuart continued to turn out "Bob's Dogs" strips, a number of which exclusively saw print in Stuart Luke's Stuff. Stuff ran for four issues, usually of twelve pages each, and included pin-ups and often pages composed of six three-panel strips. This style was swiped, Stuart freely admits, from Evan Dorkin's Dork, whose work was an influence. Stuart was also to pencil and ink large parts of Bob's 4 and significant parts of Issue 5.
He also turned in about half the illustrations on The Implausibility of Reason, a Kerouac-Bukowski beat story with Andrew, and author Marcel Angel.
Stuart developed a friendship with Dope Fiends author Emmett Taylor and contributed a three panel strip. The three of them also contributed to English cartoonist Gary Parkin's Fuzzball Jam, with Stuart providing nine pages of artwork.
In 2002, Stuart lost the use of his legs when a virus attacked his immune system. While learning to walk again, he sought to expand his interests in songwriting. He later went on to form successful local rock outfit Dynamo, where he became singer and lead guitarist, and Project Phoenix, his own electronic triphop iniative.
External Links
Edit
Community content is available under
CC-BY-SA
unless otherwise noted.