The Black Panel is a distribution service run from Belfast by Andrew Luke. The Panel was formed by Patrick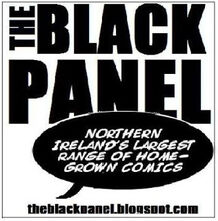 Brown late in 2009, assembling a large collection of small press comics by Irish creators. It is purported to be the largest collection of Independent Irish comics available. 
It's most recent incarnation was in occupying a section of the Haymarket Arcade in Avalon Arts' The Craft Shop. The store closed mid-March 2013. 
The Black Market
Edit
Brown and Luke sold the range of approximately sixty Irish-produced comics at the monthly Black Market held at the Black Box, Hill Street on the first Sunday of every month  The locally renowned Black Market was run as a joint venture between the Black Box and Trans Urban Arts,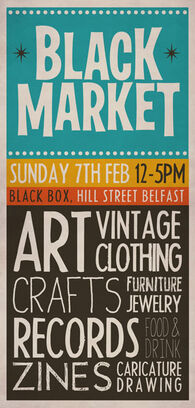 a cross-community organisation. During this time, The Black Panel also exhibited at the Black Books events running each months of 2010 , and the Trans and Belfast Council Chilli Fest 2010.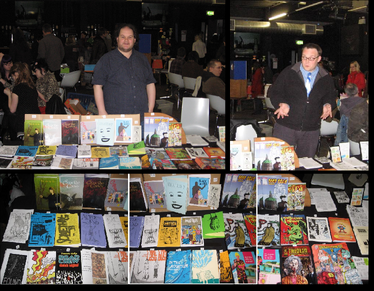 Shop Within A Shop
Edit
The Markets ceased running in late 2011, after which time Luke took on the central running of the service. The
Black Panel was re-positioned as "a shop within a shop", offering stores support and publicity in exchange for stocking works on a sale-or-return percentage basis.
The Panel operated for a brief time in Avalon Arts' The Craft Shop, located in The Haymarket Arcade. Although only there a month, (Feb-March 2013), over thirty comics were stocked at the site.
Titles Stocked
Edit
Titles available include:
Ness, The Cattle Raid of Cooley, Tamara Knight, Something and After the End by Patrick Brown
Gran by Andrew Luke
Last Bus, In the Aquarium, Stop Gap and Johnson by Patrick Lynch
Everyone is into Comics, My First Festival, Gazebo, Matter, Moronoid and Blackshapes by Philip Barrett
Found by Deirdre de Barra, Superhilbo! by Hilary Lawler, and other titles from Longstone Comics
Cancertown by Cy Dethan and Stephen Downey
Rí-Rá #1 by various artists
Funny Ha-Ha #3 by Davy Francis
Fish for Fish #1 by Gareth Hanrahan and Edel Ryder
Machines, Miracles or Magic? by various artists

A complete list can be found in the catalogue.
External links
Edit
Community content is available under
CC-BY-SA
unless otherwise noted.