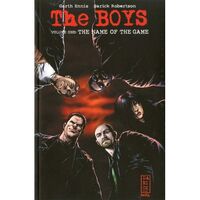 The Boys is a comic series written by Garth Ennis and drawn by Darick Robertson, featuring a superpowered CIA team tasked with keeping an eye on, controlling, and even killing superheroes. Beginning in 2006, the first six issues were published by Wildstorm, an imprint of DC Comics. From issue 7 it has been published by Dynamite Entertainment.
"The Boys" are:
Billy Butcher
Edit
Former leader of the disbanded original Boys, who reassembles the team. Large, violent and super-strong, with a bulldog called Terror. Hates superheroes because his wife was raped by one, and was killed by the superpowered foetus thus conceived.
Hugh "Wee Hughie" Campbell
Edit
Scotsman whose girlfriend was killed by a superhero called A-Train, who was moving faster than the speed of sound. Super-strong and durable, he gained his powers when Butcher injected him, against his will, with Compund V, a drug invented by the Nazis during World War II and from which all superheroes in the world of The Boys derive their powers. He is drawn to look like the actor Simon Pegg.
Mother's Milk
Edit
African-American whose nickname either derives from his wholesome goodness, or the source of his super-powers. One of the original Boys. Single father who rescued his daughter Janine from neglect at the hands of her drug-addict mother.
The Frenchman
Edit
Mad and French. Expert with firearms and may have an enhanced sense of smell.
The Female
Edit
One of the original Boys. Her name derives from the Rudyard Kipling poem "The Female of the Species", who is, of course, deadlier than the male. Extremely violent, except to The Frenchman. Moonlights for the Mafia.
One of the original Boys, who researches super-heroes to find their weaknesses. Not part of the current team, because his involvement with the original team led to the murder of his grandchildren.
External links
Edit
Online reference
Edit
Community content is available under
CC-BY-SA
unless otherwise noted.