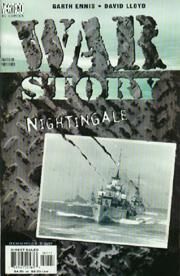 War Story is a comic series written by Garth Ennis. Two runs have been published by DC's Vertigo imprint - four issues in 2001-2002, and another four in 2003. Each issue is a stand-alone story drawn by a different artist. Most of the stories have a World War II setting, with one set during the Spanish Civil War. Two graphic novels, War Stories Vols 1 and 2, collect the two runs. Ennis is now working on a similar series of war stories, Battlefields, published by Dynamite Entertainment.
First series
[
]
"Johann's Tiger", drawn by Chris Weston and Gary Erskine. As the Second World War comes to an end, the commander of a German Tiger tank tries to convince his crew to desert and surrender to the Americans rather than die fighting the Russians.
"D-Day Dodgers", drawn by John Higgins. A young British officer joins the Italian campaign, an effort which is being ignored and denigrated at home in favour of more high profile campaigns in France.
"Screaming Eagles", drawn by Dave Gibbons. Four American soldiers secure a chateau the Nazis have used to store looted valuables and luxuries, and decide to enjoy themseves for a while before returning to the front.
"Nightingale", drawn by David Lloyd. A British ship escorts convoys through the Arctic Circle, but her efforts are undermined by bad orders.
Second series
[
]
"The Reivers", drawn by Cam Kennedy. An SAS officer in North Africa lets his lust for glory and combat undermine the morale of his men.
"J for Jenny", drawn by David Lloyd. Moral conflict between British pilots over bombing civilian targets in Germany.
"Condors", dawn by Carlos Ezquerra. During the Spanish Civil War, a German and an Irishman fighting for the nationalists, and an Englishman and a Spaniard fighting for the republicans, are forced to shelter from shelling in the same fox-hole.
"Archangel", drawn by Gary Erskine. A disgraced Scottish pilot is assigned to a camship, a converted merchant ship carrying a fighter launched by catapult - a virtual suicide mission.
External links
[
]
Online reference
[
]